ACI recently asked ACI certified individuals, "How has being ACI certified helped you on the job site?"
"Having ACI field testing technician and PCI level 2 certifications qualified me for my current position."
Zackery S.

"By knowing ACI standards, I can tell if a contractor is obeying correct concrete testing procedures. Without ACI certification, I am unable to work; it is required."
Angela P.





"The training has helped in progressing my career as a tester and as an aid in troubleshooting possible problems."
Wyatt N.

"Everyone knows I am ACI certified and never questions my results."
Allen M.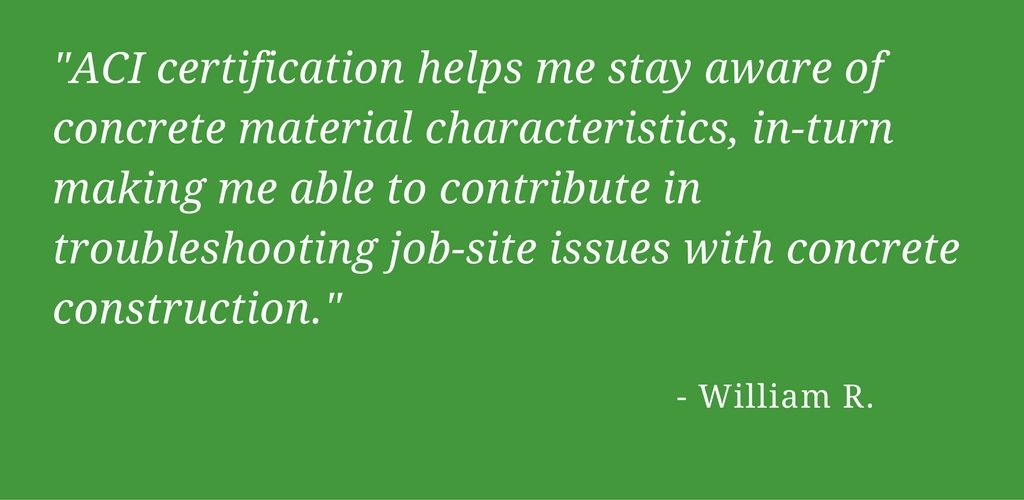 "Sampling concrete is something I do each week. This certificate helped get me into the inspections industry and led the way for my ICC reinforced and post-tensioning certifications."
Aaron B.

"ACI is one of the only organizations I know of that can certify personnel in specific test methods. This is very valuable in maintaining nationally-recognized accreditations that are required to work on various projects, especially public works projects. If we did not have ACI certifications, it would be much more difficult to maintain these accreditations..."
Jessica H.

ACI's certification programs provide you with the credentials to build the best concrete structures in the world.
Many local, national, and international building codes require ACI Certified personnel on the jobsite. When you specify ACI Certification on your jobs, you know the job will get done right and up to the highest standards.
Ensuring your team members are certified gives you a leading edge against the competition as your team is qualified for more jobs, and you produce the best work again and again, earning a solid reputation.
From the video,
Becoming ACI certified is an investment in your profession, your education, and your success. Since many local, national, and international building codes require ACI certified personnel on the job site, your value increases.

It'll be good for me to know all the ins and outs of how the specimens are taken out in the field. It shows everybody across the board that we know what we're doing.
I think it gets you to get in-depth with the codes and the standards so that you really know what's going on.
I think it puts a little more weight on your position because then you're, in some capacity, trusted to be verifying that the materials are correct and that people are doing their job at some point.
Knowing what to expect, what the contractor's looking for, able to inform the contractor, able to do quality control on my technicians making sure that they're doing what they're supposed to be doing.
I decided to get ACI certified for my job as a dispatcher, and my quality control manager wanted me to learn more about concrete and how it worked.
It just shows that you're more knowledgeable in what you're doing so if you happen to get into an argument with someone you can start naming off your requirements, your codes, all the parameters that you're learning with the ACI classes to pretty much show them how things are supposed to be done, that there's a reason why we do things the way we do.
I think it will help me get better career prospects and just kind of understand what I'm doing more and go further.
With an ACI certification you can prove your ability to work with concrete, demonstrate your skills in testing, construction, or inspection, and earn more opportunities for jobs.
Throughout my career, both on the contracting side and on the engineering side, I have found a lot of benefits to being ACI certified and working with other ACI certified professionals.
It's very important. It's like accuracy of every test. You follow steps. I think so, and I know so, from like my previous experience.
I definitely would recommend certification to my coworkers or colleagues. There's a big benefit to being certified with regards to employment, with regards to promotions. You're just a more valuable employee with certifications.
Concrete testing was a requirement of my position, and the anchor adhesive installation was a choice of mine.
I started out when I was younger doing concrete testing, and I wanted to make sure that I was doing the test correctly, so I actually took it upon myself to go get certified with field testing, level one.
For like the strength testing technician it helps, because I run the laboratory for our office so when we do our inspections for CCRL I can show them that yes, I'm qualified to be in the lab and do what I'm doing.
When you're ready to get certified follow these four simple steps. Find a full list of certification programs on ACI's website. Find one of more than 100 testing locations convenient for you. Prepare with ACI workbooks, ACI online training, and help from a local testing center. Finally, take your exam.
Learn more at whyACIcertification.org, or call (248) 848-3700. Prove your knowledge, demonstrate your skill, and earn one of the concrete industries most popular certifications.

ABOUT ACI
The American Concrete Institute (ACI) is a leading authority and resource worldwide for the development, distribution and adoption of consensus-based standards, technical resources, educational programs, and proven expertise for individuals and organizations involved in concrete design, construction, and materials, who share a commitment to pursuing the best use of concrete.
---
Hill and Griffith Customer Service
We're known for our hands on approach. Let us visit your plant and recommend concrete release agents, packerhead concrete form releases, concrete form seasoning, potable water concrete form release, non-petroleum concrete form release, biodegradable concrete form release, rust inhibitors and concrete dissolver products that suit your needs.
Product Samples

We are pleased to provide samples in quantities large enough to allow you to "try before you buy."
Contact Us »
Technical Services & Support

On-site casting defect investigations, product testing, machine start-ups and much more. Also, lab facilities are available to provide testing upon request.
Contact Us »