Excerpt from the January 2017 issue of American Society of Mechanical Engineers
"When you walk into a foundry, one of the things you are likely to see is a section of the building with rows and rows and rows of match plates with patterns on them," says Howard Rhett, technical support leader for Viridis3D, of the sandcasting business.
These patterns are the copies of parts that they've made for other companies. They're kept on hand so that the foundries can again pack sand around them to make a new mold when called upon to make the part again. "They have to make them, have to keep the stuff in inventory. The foundry is actually paying to keep these things warehoused," he says.
A 3D mold printed from a CAD file. Image: Viridis3D
But Viridis3D is now making a 3D printing system for sandcasting that will put an end to the need for such storage. It fully automates the simultaneous creation of molds and patterns out of sand.
Viridis3D is not the first company to apply 3D printing to sandcasting, but they've managed to do it for a lot less. "I like to call us the Apple of sandcasting printing," says Rhett. "We take off-the-shelf components and bring them together to offer a solution for a lot less."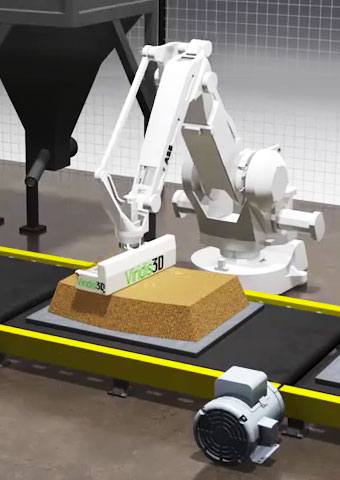 There are three primary components that make up the system. A Palmer hopper holds the sand, while a robotic arm moves the sand to the printing bed and sweeps across it as the third component—the printing head—puts the sand down where it needs to go.
A liquid binder holds the sand together to make the object inside the mold. As the robotic arm moves, in a windshield wiper arc, it lays down the mold layer by layer like many other 3D printers. The result has a resolution of 100 dots per inch in the X and Y axes and a half a millimeter in the Z layer. The average grain of beach sand is roughly a third of a millimeter.
---
Hill and Griffith Customer Service
The Hill and Griffith Company's green sand metal casting foundry supplies help achieve the EPA's M.A.C.T. standards and reduce Benzene emissions. Our variety of environmentally sound release agents, coatings, partings, lubricants, core oils and specialty products will help you meet your metal casting's needs. We're known for our hands-on approach. Let us visit your plant and recommend products that suit your needs.
Product Samples

We are pleased to provide samples in quantities large enough to allow you to "try before you buy."
Contact Us »
Technical Services & Support

On-site casting defect investigations, product testing, machine start-ups and much more. Also, lab facilities are available to provide testing upon request.
Contact Us »